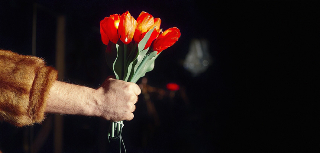 Teaterhögskolan, svenska institutionen för skådespelarkonst / Theatre Academy Helsinki
I ONLY WANT YOU TO LOVE ME or FASCISM WILL TRIUMPH!


Med inspiration från den tyske filmaren Rainer Werner Fassbinders dynamiska samspel mellan liv och arbete, privat och politiskt; vill projektet bidra till utforskandet av en ny "roll" för skådespelerskan bortom och inuti de små gliporna mellan verklighet och fiktion: en skådespelerska som inte längre representerar verklighet utan snarare kritiskt undersöker hur subjektivitet produceras under inflytande av makt och ideologi. Utgångspunkten är att skådespelerskan tar plats i skottvinkeln för publikens blick och där undersöker möjliga öppningar då dramat faller ut i ambivalens.
Beaktande att Fassbinder föddes 1945, och att hela hans liv och karriär var en uppgörelse med hur fascismen bildar symptom i privatsfären, (särskilt i kärlekens och begärets draman), måste vi förstå honom som ett betydelsefullt vittne till hur ett kapitalistiskt konsumtionssamhälle misslyckades med att rycka upp de 3e Rikets mekanismer och värderingar med rötterna.
---
With inspiration drawn from the German filmmaker Rainer Werner Fassbinder´s dynamic interplay between life and work, private and political; the project wish to contribute to the exploration of a new "role" for the actress beyond, and in, the small glitches between reality and fiction; the actress no longer representing reality but rather critically researching on how reality is produced under influence of power and ideology.  The starting point is that the actress takes position in target of audience gaze and from there explore possible openings as drama falls into ambivalence.
Considering Fassbinder being born 1945 and that he throughout his career dealt with how fascism symptomizes in the private sphere, (especially in the dramas of love and desire), he must be seen as an important witness of how a capitalist consumerist society failed to uproot the mechanisms and values of the 3rd Reich.
---
På scen / näyttämöllä / on stage: Peter Ahlqvist, Andrea Björkholm, Kajsa Ek, Nils Granberg, Wilhelm Grotenfelt, Petter Kevin, Julia Korander, Iida Kuningas, Kira-Emmi Pohtokari, Matti Raita, Tinja Sabel, Christoffer Strandberg
 
Regi / director: Anders Carlsson
Koreografi / choreography: Andriana Seecker
Dramaturgi / dramaturgy: Christoph Wirth
Kompositör / composer: Andreas Catjar
Sångpedagog / voice teacher: Kirsi Tunkkari
Scenografi / scenography: Andriana Seecker, Jeannine Simon
Kostymplanering / costumedesign: Tove Berglund (StDH)
Ljusplanering / lightdesign: Ada Halonen (VÄS-m)
Planering av video och bild / AV-design: Markus von Knorring
Ljudteknik / soundtechnician: Grigorij Tolkacev (JAMU)
Fotografer / photographers: Katariina Träskelin, Henri Tuomi (Aalto ARTS)
Produktionsassistent / production assistent: Fredrik Gräsbeck (Novia)
Producent / producer: Maria Kaihovirta

Gästande regissör, koreograf, scenograf, dramaturg och kompositör från Institutet / Director, choreography, scenography, dramaturgy and composer from Institutet
Premiär / Premiere
29.11.2012 kl./at 19.00

Uppspel / performances
30.11 kl./at 19, 1.12 kl./at 15, 3.12 kl./at 19,
4.12 kl./at 19, 5.12 kl./at 12, 7.12 kl./at 19, 8.12 kl./at 15
Biljettbokningar för inbjudna:
Sänd e- post med din reservationsönskan till: kutsu@teak.fi  eller
Photo: Katariina Träskelin