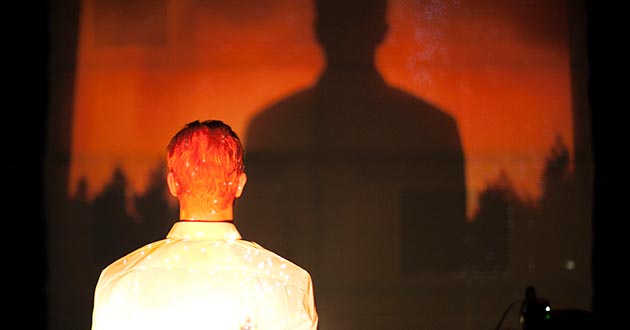 BIS ZUM TOD
En satanisk black-metal opera om familjens undergång. En gäst närmar sig det hemsökta huset och den 13-årige sonen väljer mörkret.
Med Bis Zum Tod avslutas triptyken om kärnfamiljen. Om Conte d'Amour (2010) beskrev ett nedstigande i den romantiska kärlekens psykotiska källare och We love Africa and Africa loves us (2012) behandlade hur ett inre kaos projiceras på en fjärran imaginär kontinent, så behandlar den tredje och avslutande delen kärlekens kraft som negation av det bestående, dess destruktiva och samhällsomstörtande potential samt dödsdriften som familjens inneboende mekanism för självdestruktion.
Nya Rampen, Institutet och Markus Öhrn har samarbetat i en rad projekt sedan 2006. Conte d'Amour vann 2011 Impulsefestivalens pris för bästa produktion. Deras verk har bl a visats på Inkonst, Baltic Circle Festival (Helsingfors), Théatre de Gennevilliers(Paris), Theatertreffen(Berlin), Wiener Festwochen, Festival d'Avignon, Festival Transamerique(Montreal) och World Stage Festival Toronto. I den här föreställningen samarbetar teamet också med Janne Lounatvuori, musiker och producent, Derek Holzer, instrumentbyggare och ljudartist, samt Linus Öhrn, vokalist och gitarrist i thrashmetalbandet Siniestro.
Institutet är en turnerande svenskt teatergrupp med bas i Malmö och Berlin, som arbetar för att bygga internationella allianser inom samtida scenkonst med anspråk på utrymme för nya utmanande estetiska strategier, kritiskt tänkande och ett konstnärligt förhållningssätt till livet.
Nya Rampen är en finlandssvensk teatergrupp som grundades 1999 i Helsingfors av Elmer Bäck, Rasmus Slätis och Jakob Öhrman tillsammans med producenten Elin Westerlund. Nya Rampen vill tänja på gränserna för teatern och håller därmed dörren öppen för övriga konstyttringar och strömningar. Genom att utmana de förutfattade meningar som existerar om vad teater borde vara strävar gruppen efter att finna nya uttryck och även nya sätt att närma sig det sceniska rummet. Gruppen är baserad i Berlin med starka kontakter till Helsingfors och Skandinavien. www.nyarampen.fi
Markus Öhrn är en svensk bildkonstnär som bor och arbetar i en liten by i norra Sverige, Niskanpää och i Berlin, Tyskland. Markus arbetar främst med videoinstallationer och hans verk har visats både i Sverige och internationellt, till exempel på Moderna Museet i Stockholm och vid Volksbühne i Berlin. www.markusohrn.org
Janne Lounatvuori, musiker och producent. kaikustudios.com
Derek Holzer, instrumentbyggare och ljudartist. macumbista.net
Konstnärlig ledning, scenografi, video: Markus Öhrn | Musik, komposition: Janne Lounatvuori, Linus Öhrn, Derek Holzer | Medverkande: Elmer Bäck, Anders Carlsson, Jakob Öhrman, Rasmus Slätis | Kostym: Pia Aleborg | Text: Victoria Larsson, Markus Öhrn, Anders Carlsson | Producent: Sina Kießling | Teknisk ledning: Patrick Tucholski | Regiassistent: Anne Herwanger | Ljuddesign: Robert Hefter | Samproduktion: I see Darkness, Nya Rampen, Institutet, Volksbühne am Rosa-Luxemburg-Platz, Zamek Culture Center Poznan, Nowy Teatr Warsaw | Med stöd av: Theater der Welt, Kulturrådet, Haupstadtkulturfonds, Svenska Kulturfonden i Finland.
Speldatum:
5,6 juni 2014, Theater der Welt, Mannheim, Tyskland
20,21 september 2014, Volksbuhne Berlin, Tyskland
4 october 2014, Culture centre Zamek, Poznan, Polen
14,15 november 2014, Baltid Circle Festival, Helsingfors, Finland
26-31 maj 2015, Inkonst, Malmö, Sverige
BIZ ZUM TOD (English)
A satanic black-metal inspired opera on the abysses of a family. A guest approaches the haunted house and the 13 year old son chooses the dark path.
Bis Zum Tod completes a triptych dealing with the western middle class nuclear family structure: If Conte d'Amour (2010) described a story of vertical stepping down into the psychotic cellar of romantic love, while We love Africa and Africa loves us (2012) dealt with an outsourcing projection of inner chaos on a far away, imaginary continent, this third and final piece is dealing with love as a power of negation and a death drive mechanism of self-destruction inherent to the psycho-logic of the family.
Nya Rampen, Institutet, and Markus Öhrn have worked together since 2006 in various projects, most outstanding Conte d'amour, which won the award for best fringe theatre production at the Impulse theatre festival in 2011. Their work has been shown at Ballhaus Ost Berlin, Inkonst Malmö, Baltic Cirlcle Festival Helsinki, Kulturhuset Stockholm, Théatre de Gennevilliers Paris, Krakowskie Reminiscencje Teatralne, Süpol Luzern, Theatertreffen Berlin, Wiener Festwochen, Festival d'Avignon, foreign affairs Berlin,  Festival La Batie in Geneva, Festival Transamerique in Montreal and World Stage Festival in Toronto (amongst others). In this play they furthermore collaborate with a music combo, consisting of Janne Lounatvuori, musician and producer (kaikustudios.com), Derek Holzer, instrument builder and sound artist (macumbista.net) and Linus Öhrn, vocalist and guitarist in the thrashmetal band Siniestro.
Cast & Crew
DIRECTION / STAGE / VIDEO Markus Öhrn
SCRIPT Victoria Larsson, Markus Öhrn
COMPOSITION / MUSIC Janne Lounatvuori, Linus Öhrn, Derek Holzer
COSTUMES / PROPS Pia Aleborg
ASSISTANT DIRECTION Anne Herwanger
LIGHT Robert Hefter
TECHNICAL MANAGER Volker M. Schmidt (Ballhaus Ost)
TECHNIQUE Patrick Tucholski
PRODUCTION Sina Kießling
With
Elmer Bäck, Anders Carlsson, Jakob Öhrman, Rasmus Slätis
Performance dates:
5,6 June 2014, Theater der Welt, Mannheim, Germany
20,21 September 2014, Volksbuhne Berlin, Germany
4 October 2014, Culture centre Zamek, Poznan, Poland
14,15 November 2014, Baltid Circle Festival, Helsinki, Finland
26-31 May 2015, Inkonst, Malmö, Sweden
Coproduced by
I see Darkness, Nya Rampen, Institutet, Volksbühne am Rosa-Luxemburg-Platz, Zamek Culture Center Poznan, Nowy Teatr Warsaw
Supported by
Theater der Welt, Kulturrådet, Haupstadtkulturfonds, Svenska Kulturfonden i Finland