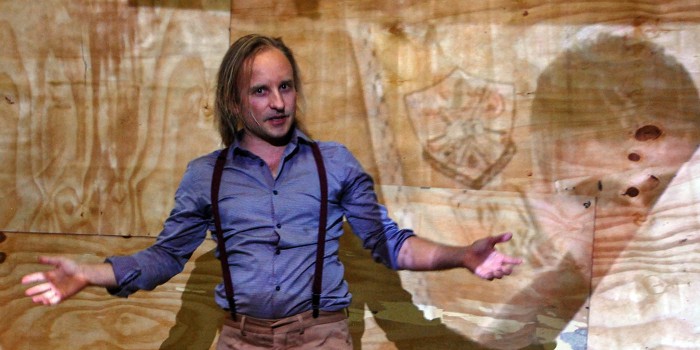 INSTITUTET (SE)/
VIERTE WELT (DE)
Berättelser, video och ljud om konstens roll i krig
"Om du lämnar mig här så gör jag något" säger Fadi, 16 år, till Anders Carlsson sista gången de ses på Västbanken. Tio år senare sitter Fadi fängslad i Israel.
År 2006 reser regissören och skådespelaren Anders Carlsson till Västbanken med ett konstprojekt för att leta berättelser om hur det är att vara ung under israelisk ockupation. Han träffar Fadi, en 16-årig palestinier, och de blir vänner men förlorar kontakten efter att projektet är slut. Tio år senare försöker han återuppta kontakten, men får veta att Fadi har suttit fängslad i Israel i nio år.
Av en händelse befinner sig den tyska islamologen Navid Kermani i ett ockuperat palestinskt område vid samma tid som Carlsson 2006. Den grymma tristessen och dagliga terror som ockupationen innebär drabbar dem båda som en personlig och professionell kris. För Kermani mynnar krisen ut i en text som frågar oss hur vi kan härbärgera de ambivalenser som denna konflikt innebär.
I föreställningen vävs liveperformance, dokumentärvideo och ljudkonst samman med berättelsen om Fadi samt Kermanis text. Checkpoint16 är en historia om konstens roll i ett krig och vad som händer när personliga relationer blir till material i konstnärlig verksamhet.
På scen: Anders Carlsson och Judith van der Werff
Regi: Dirk Cieslak
Dramaturgi: Annett Hardegen
Scenografi, rumslig gestaltning: primavera * maas
Video: Vierte Welt
Ljud: Christoph Wirth
Spelas: 19 & 20 oktober på Inkonst, Malmö
Längd: 90 min
Språk: engelska, svenska och tyska (textat)
Biljetter: Kulturcentralen
En samproduktion mellan Vierte Welt och Institutet
Med stöd av: Regierenden Bürgermeister von Berlin, Senatskanzlei – Kulturelle Angelegenheiten, Rudolf-Augstein-Stiftung, Kulturrådet i Sverige
Vierte Welt (DE) är en scen vid Kottbusser Tor i Berlin där konstnärer, teoretiker, aktivister och publik kan mötas på lika villkor för utbyte och samtal.
Institutet (SE) är en turnerande svenskt teatergrupp med bas i Malmö och Helsingfors, som arbetar för att bygga internationella allianser inom samtida scenkonst med anspråk på utrymme för kritiskt tänkande och ett konstnärligt förhållningssätt till livet.
Checkpoint16 – art at war: a confrontation of ambition and impotence
In the case study Checkpoint16, the function of art in a war is scrutinized.
In an arrangement of live-performance, documentary video and sound art, the story of a young Palestinian is interwoven with a text by the German islamologist Navid Kermani published in the book "State of Emergency – travels in a troubled world".
In 2006 the actor Anders Carlsson travels to the West Bank in search of story about being young under the Israeli occupation. He meets Fadi, a 16 year old Palestinian and they become friends, but looses their contact after the art project is done. 2016 – ten years later – the artist attempt to reestablish the contact and learns that his friend has been imprisoned since 9 years, and then he remembers the last words of the boy 2006: "if you leave me here I will do something".
By coincidence, Navide Kermani is also in occupied Palestinian territory at the same time as Carlsson 2006. The cruel boredom and the daily terror that the occupation means, strike them both as a personal and professional crisis. For Kermani the crisis mounts to a text that asks us how to harbor the ambivalences this conflict arises and for Carlsson the crisis leads to a fundamental questioning of his own actions and artistic methods. With focus on the conflict the performance articulates sensitive questions of what it means when relations become material for artistic production.
Vierte Welt in collaboration with Institutet. The Vierte Welt is a space at Kottbusser Tor in Berlin where artists, specialists, activists and audiences come together on an equal footing for interchange and communication. Institutet is a Swedish independent theatre group working internationally, but with a base in Malmö.
Cast: Anders Carlsson och Judith van der Werff
Direction: Dirk Cieslak
Script: Annett Hardegen
Set design: primavera * maas
Video: Vierte Welt
Sound: Christoph Wirth
A co production by Vierte Welt, Berlin and Institutet, Malmö.
Supportt by: Regierenden Bürgermeister von Berlin, Senatskanzlei – Kulturelle Angelegenheiten, Rudolf-Augstein-Stiftung, Kulturrådet Sweden
90 min
Language: English, Swedish and German (texted)
Dates: 19 & 20 oktober 2017 at Inkonst, Malmö
Premiere october 2016 at Ballhaus Ost, Berlin
Tickets: Kulturcentralen