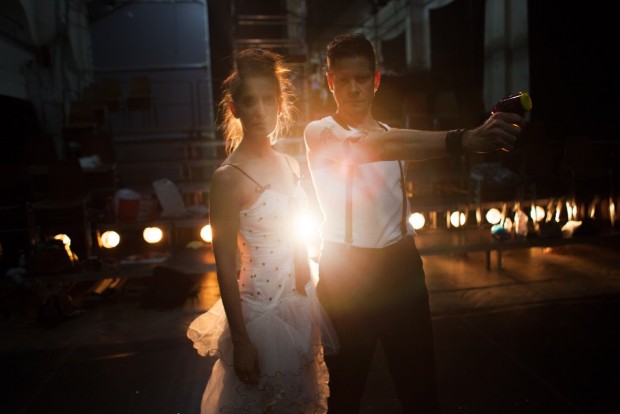 Dans utan skam på ett glittrande spökdisco
Tretton discokulor, en spökgunga och skor som går av sig själva på ett övergivet dansgolv när en musiker och en dansare byter roller för att reda ut hur man gör för att gå vidare efter ett trauma.
På ett övergivet disko, en plats som är dammig och mörk, blinkar en ficklampa. Där finns musik från 80-talet och gothiga kläder, svett och sorg. Två figurer som dansar solo och tillsammans, sjunger, live-improviserar musik och berättar berättelser om att vilja men inte förmå. Vad händer när man inte passar in i kategorierna? När man stressar och pressar för att nå perfektion och leva upp till förväntningar, men faller pladask? På scen karvas det ut en plats där svaret på de frågorna kan bli "Bara dröm, som om det var möjligt: dansa utan skam".
It's never too late är en föreställning där musikern Andreas Catjar och dansaren Andriana Seecker byter och delar roller med varandra på scen. Livemusik, dans och magisk scenografi blandas i ett berättelse om barndomens spöken som lever i oss, kroppstrauman och hur man ta sig fram trots att man inte passar in.
På scen/koreografi/musik/scenografi/kostym: Andreas Catjar och Andriana Seecker
Dramaturg: Jeannine Simon
Konstnärlig konsult: Anders Carlsson, Jeannine Simon
Grafisk form: Elise Catjar
Foto: Felix Gebhard och Institutet
I samarbete med: Ballhaus Ost. Med stöd av: Kulturrådet, Teak Theatre Academy Helsinki och Theaterhaus Berlin Mitte. Tack till: Erica Li Lundquist
Spelas: 21–22/9 2017 kl 19.00 på Inkonst, Bergsgatan 29, Malmö
60 min, engelska
Biljetter: 160/110:- Förköp på Kulturcentralen
English
"Music for me is: a possibility of abstraction and passion. I have always been very fascinated by dance, because it's the art-form closest to music for me. If I was no musician, I would be a dancer." (Andreas Catjar)
A dancer and a composer switch professions. It´s never too late. Two swans. Trans Europa Express by Kraftwerk in an abandoned disco. The ghost of Julia (having a pas de deux) without Romeo under a sky of golden flitter and dust. Once in a lifetime. Don't care about history. Just dream. Like if it was possible. Dance without shame. Andriana Seecker (dancer and choreographer) and Andreas Catjar (musician and composer), have a long history and a background together as members of the swedish theatre group Institutet. They have created a dance-performance that deals with fear, childhood, dreams, ghosts and leaving safe territory.
Performance / choreography / music / stage and costume design: Andreas Catjar and Andrian Seecker
Dramaturgy: Jeannine Simon
Artistic consultant: Anders Carlsson and Jeannine Simon
Guestcomposer: Daniel Myer
Light Design / Technic: Daniel Goody
Photo: Felix Gebhard och Institutet
Shows: 21–22/9 2017, 19.00 at Inkonst, Bergsgatan 29, Malmö
60 min, english
Tickets: 160/110:- Presale at Kulturcentralen
A INSTITUTET PRODUCTION IN COOPERATION WITH BALLHAUS OST
FUNDED BY THE SWEDISH ARTS COUNCIL / KULTURRÅDET
WITH THE FRIENDLY SUPPORT OF TEAK-THEATRE ACADEMY HELSINKI AND THEATERHAUS BERLIN MITTE
THANKS TO JOHANNA KLUHS, ERICA LI LUNDQUIST AND RASMUS SLÄTIS