We love Africa and Africa loves us
A theatre play about post-colonial fantasies of omnipotence and European family structures
The collaboration between Nya Rampen (FIN), Institutet (SWE) and the artist Markus Öhrn (SWE) brought the noted performance Conte d'Amour (2010) that has been presented at Ballhaus Ost Berlin, Inkonst Malmö, Baltic Cirlcle Festival, Helsinki, Kulturhuset Stockholm, Théâtre de Gennevilliers Paris, Impulse Festival, Krakowskie Reminiscencje Teatralne, Süpol Luzern, Theatertreffen and Wiener Festwochen.
We love Africa and Africa loves us continues from where Conte d'Amour ended.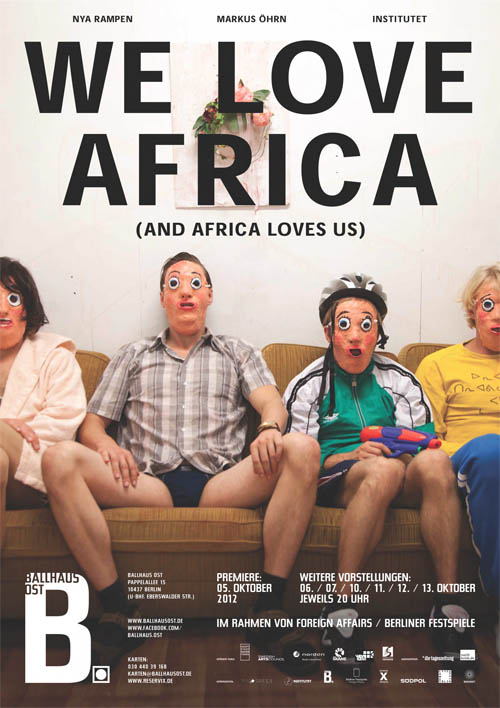 "Daddy" is caught in a crisis. The family has managed to escape the horrors of Joseph Fritzl's cellar, now daily routine dominates life. The division of social roles has been weakened by middle-class, westernized ways of life: daddy still might be head of his family, the provider and protector of women and children, but he has been 'castrated' by society's lack of recognition for his role as patriarch and feels restricted in the implementation of the family project. We love Africa and Africa loves us takes up where Conte d'Amour left off. While Conte d'Amour described the story of a vertical "stepping down" in the cellar of romantic love, in this new production by Markus Öhrn [Niskanpää/Berlin], Institutet [Malmö/Berlin] and Nya Rampen [Helsinki/Berlin] the family has managed to make it to the ground floor. From here – a kind of ground zero of modern democracy – its members try to find external justification for the internal psychology. Western images of Africa as an unknown, wild, authentic place in need of aid conveniently lend it the 'otherness' the white family needs to redefine and inspire its conventions. We love Africa and Africa loves us projects ideals of white nuclear families onto the dynamics involved in humanitarian aid for the so-called Third World. This drama about the relationship between helpers and the helped turns post-colonial and racist attitudes into hegemonic, patriarchal fantasies of omnipotence. A projection of inner chaos onto a distant continent called Africa – and a journey to the heart of European darkness.
Premiere at Ballhaus Ost, Berlin October 6th, 2012.
Cast & Crew
DIRECTION / STAGE Markus Öhrn
SCRIPT / RESEARCH Anders Carlsson
COMPOSITION / MUSIC Andreas Catjar
COSTUMES / PROPS Pia Aleborg
PROPS Oskar Nilsson
TECHNICAL MANAGER Volker M. Schmidt (Ballhaus Ost)
TECHNIQUE Patrick Tucholski
PRODUCTION Tina Pfurr (Ballhaus Ost)
ARTISTIC COORDINATOR Pamela Schlewinski
PRESS Yven Augustin
With
Elmer Bäck, Anders Carlsson, Jakob Öhrman, Rasmus Slätis
Coproduced by
Institutet / Nya Rampen / Ballhaus Ost Berlin / Baltic Circle Theatre Festival Helsinki / Garage X Vienna / Inkonst Malmö / Südpol Luzern
Supported by
Hauptstadtkulturfonds, Swedish Arts Council, Swedish Cultural Foundation in Finland, Nordic Culture Point, Swedish Author's Fund, City of Vienna MA 07 and and Kultur Skåne