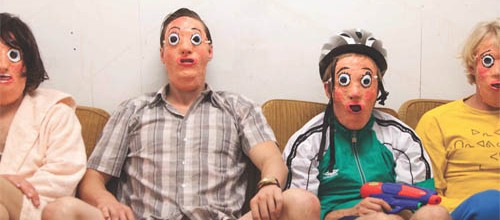 A theatre piece about post colonial fantasies of omnipotence and european family structures.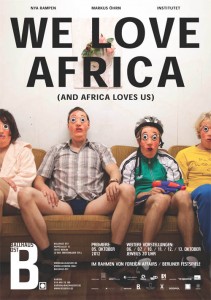 Their first collaboration, "Conte d'Amour" was awarded "best off-theatre piece at the Impulse Festival 2011. The piece by Markus Öhrn and Nordic theater groups "Institutet" and "Nya Rampen" guested 2012 at Berliner theatertreffen, Vienna Festival, Festival d'Avignon and toured all over Europe. Now they present the continuation of the piece: "We love Africa and Africa loves us". The premiere is on October 5th, 2012 at Ballhaus Ost Berlin as part of "Foreign Affairs", the new festival of Berliner Festspiele.
Premier
October 5th, 2012, Ballhaus Ost, Pappelallee, Berlin, 07.30pm
Further Shows in Berlin
October 06+07 and 10 to 13, 2012
On tour
October 18, 19, 20, 2012
Inkonst Malmö (SE)
November 9, 10, 11, 2012
Baltic Circle Festival Helsinki (FI)
Direction / Stage Markus Öhrn Script / Research Anders Carlsson Music Andreas Catjar Costumes / Props Pia Aleborg Props Oskar Nilsson Technical Direction Volker M. Schmidt (Ballhaus Ost) Technique Patrick Tucholski Production Alexa Graefe (Institutet), Tina Pfurr (Ballhaus Ost) Artistic Coordination Pamela Schlewinski Press Yven Augustin
With Elmer Bäck, Anders Carlsson, Jakob Öhrman, Rasmus Slätis
While "Conte d'Amour" was still a deep, disturbing look into the abyss of the cellar of pedophile Joseph Fritzl, "We love Africa and Africa loves us" embarks on a journey to the dark origins of the European middle class family and their perception of a family life. The new production of Markus Öhrn, Nya Institutet and Nya Rampen begins where "Conte d'Amour ended. The family escaped the terror of Joseph Fritzl's basement, now dominates the daily routine and "Daddy" is in crisis: the concept of the Western middle-class family life has softened the social roles. While the father is still the representative, provider and protector of his wife and children, but neutered by the lack of social recognition of his patriarchate, he feels restricted in the design of the family project.
The family needs a new screen for its inner psycho-logic. The Western image of Africa as the unknown, wild, authentic, that needs our help takes now the role of "the other".
"We love Africa and Africa loves us" transmits the structures of the Western middle class family on the dynamics of humanitarian aid to the Third World: But the in the piece the relationship between helpers and those who are supposed to get the help gets postcolonial racial traits and becomes a projection of supremacist, patriarchal fantasies of omnipotence.
Coproduced by NYA RAMPEN, INSTITUTET, BALLHAUS OST, BALTIC CIRCLE THEATRE FESTIVAL (HELSINKI), GARAGE X (WIEN), INKONST (MALMÖ) and SÜDPOL LUZERN
Funded by HAUPTSTADTKULTURFONDS, SWEDISH ARTS COUNCIL, SWEDISH CULTURAL FOUNDATION IN FINLAND, NORDIC CULTURE POINT, SWEDISH AUTHOR'S FUND, KULTURABTEILUNG DER STADT WIEN (MA 07) and KULTUR SKANE
Presented in the frame of FOREIGN AFFAIRS / BERLINER FESTSPIELE
Thanks to HEIDI DJURIC, DANIEL HOFLUND, DEREK HOLZER, CHRISTER PAULSTRUP, ANDRIANA SEECKER, OLIVIER VEILLON